Equip Classes
Designed to be an intentional time of biblical teaching and fellowship, our Equip Classes offer a great opportunity to not only Grow deeper in your faith, but also Connect better with other people. Classes meet and change curriculum every twelve weeks.
Fresh Start
Facilitator: Paul Sloan

Start Date: Sunday, November 4th


Time: 9:30am
"Trust in Jesus with all you have, don't try to lean on your own understanding but in all your ways, follow Him and He will direct your life."
This is one of over seven thousand promises found in the Bible. Our Bible has been referred to as God's love letter to us. This Bible can seem a bit overwhelming, but it was not intended to be so.
Our Heavenly Father, or ABBA, which means Daddy, loves us with an everlasting love. He desires for us to love Him. His Bible is the way He wants us to know Him better and be able to trust who He is and His purpose for our life.
Let's explore God's promises to us and find out His plan for our life. This adventure will change your life, your purpose, and your eternal destiny. We can also discover how we can change the life of others for Jesus as well.
God's Lens
Facilitator: Tanya Shea

Start Date: Sunday, November 4th
Time: 

9:30am

 
What lens do you see yourself, others and the world through?
We all have thought patterns that impact how we perceive our world, feel and behave.  These thought patterns can be positive and healthy or negative and truly damaging.  We often believe that we have little control over these "automatic" thoughts and that they are always true.  The Lord clearly states that he wants us to "set our hearts on things above" (Colossians 3:2).  This class will help us identify the negative thought patterns we have developed, which are causing us to feel anxious and/or depressed.  It will also teach us how to challenge, reframe and align our thoughts with God's word.   Philippians 4:8, "Finally, brethren, whatever is true, whatever is honorable, whatever is right, whatever is pure, whatever is lovely, whatever is of good repute, if there is any excellence and if there is anything worthy of praise, let your mind dwell on these things."
The Book of Psalms
Facilitator: Bill Henricks

Start Date: Sunday, November 4th
Time:

 

9:30am

 
The book of Psalms is often quoted and clichéd, but much less often contextualized. When we understand the Psalter relative to the circumstances in which it was written, we find a rich resource for God's people. Through these prayers, God both speaks to us and models how we might speak back to Him. At its core, the book of Psalms is an instructional guide to a moment-by-moment walk with God through the world.
Through text and video teaching, Dr. Brian Russell introduces readers to Book 1 of the Psalms (Psalm 1-41) with humility and in anticipation of finding fresh astonishment and sustenance in these God-inspired prayers.
Prayer
Facilitator: Caley Spangenberg

Start Date: 

Sunday, November 4th
We believe that prayer is important.  Come join us in the prayer room

each 
Sunday morning as we pray for each other and the needs around

us.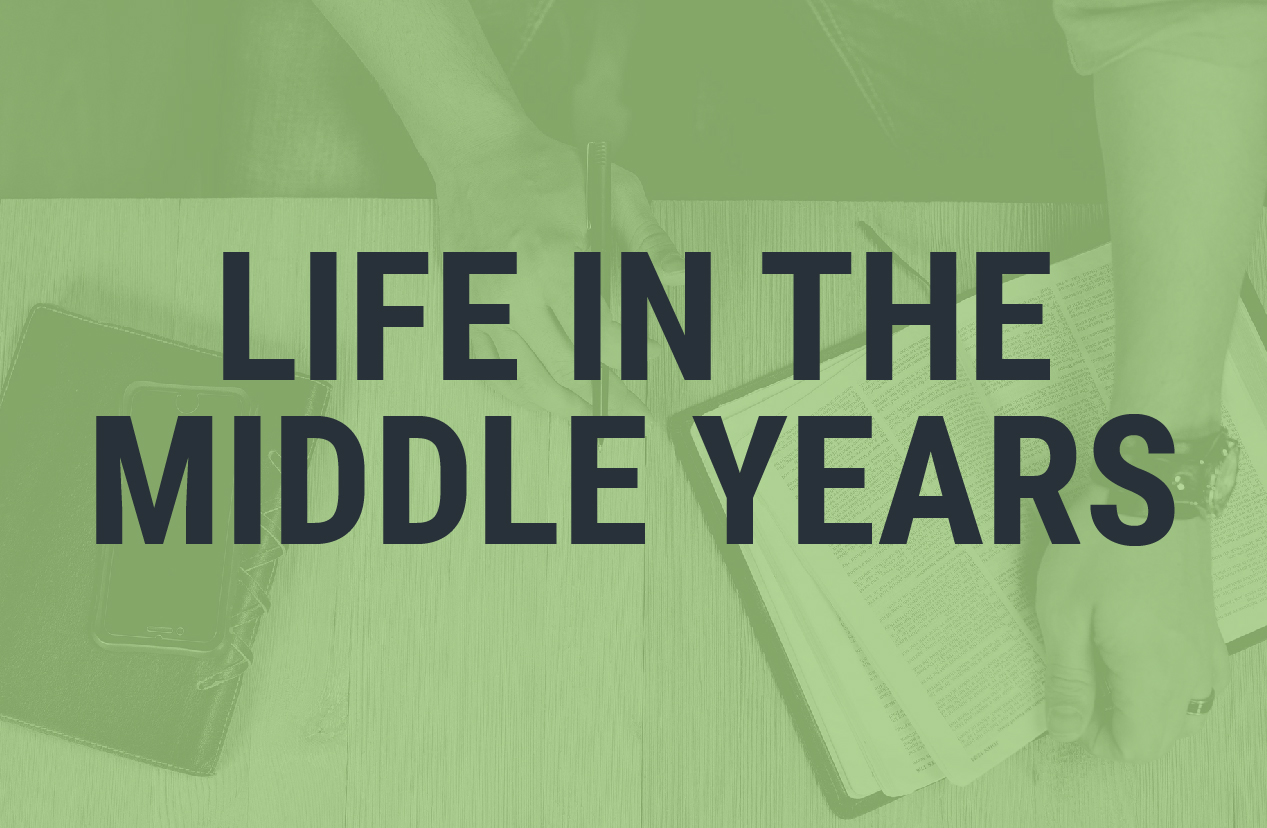 Life in the Middle Years
Facilitator: Randy & Kathy Loewen

Start Date: Sunday, November 4th
Time: 9:30am
Life in the Middle Years provides clean parenting strategies to meet the changing needs of the 8 – 12 year olds.

  
This is a season when that son or daughter in your home is too old to be called a child, but too young to be labeled an adolescent.
The middle years are marked by a series of growth transitions, when children begin the process of moving away from childhood structures and move toward those all-important adolescent years.
Your children will no longer communicate the same way they did previously.
Relationships with peers will begin to change.
What the group thinks becomes important and members of he opposite gender will start to become attractive.
In short your child is changing and maturing.
How prepared are you for this critical transition period of life and the ever changing digital-age of parenting?